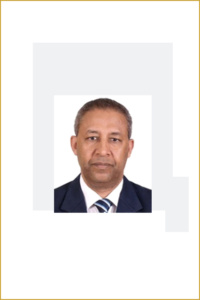 Milad Abdullah Taher
Milad Abdullah Taher is a member of the Board of Directors of the Libyan Center for International Commercial Arbitration and Chairman of the Board of Directors of the Libyan Foundation for Good Governance,
Milad has extensive experience in industrial engineering, strategic planning, quality, strong design and total quality management (TQM) aimed at various applications including reform and quality of governance. He integrated engineering design principles into a comprehensive TQM model called the Total Quality Management System (ETQM) model. Abdullah worked in the management of the Nuclear Research Center and worked in the management of a number of companies dealing with petroleum products, real estate, construction, training, manufacturing,
Milad Abdullah, PhD in Quality Engineering. From the University of Newcastle-upon-Tyne, Newcastle United Kingdom, and a master's degree from the University of Tripoli, and a Bachelor of Industrial Engineering from the University of Toledo, Ohio, USA.